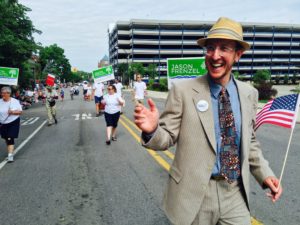 Jason Frenzel is a progressive, pragmatic Democrat running for City Council in Ann Arbor's Ward 1. Jason leads service minded organizations, mentors community initiatives, and tirelessly advocates for strong, sound improvements in Ann Arbor.
What I bring to the City Council table
15 years of creating budgets for city projects—and coming in under cost estimates
A positive, optimistic voice that fosters cooperative action
An inclusive leadership style that gathers different people to work well together
Expertise about our natural resources such as the Huron River, our beautiful parks, and recreation areas
Professional history that has given me an inside look on how our city runs
Experience with broader issues, such as climate change effects, that will keep Ann Arbor in the forefront of eco-wise decisions
An innovative mindset that has created successful city programs
A giant ear and a sharp nose to the grindstone. I will listen to your concerns, represent them equally, and work smartly to solve them.
Professional Experience
10 years: City of Ann Arbor Natural Area Preservation Program, Volunteer & Outreach Coordinator

Founder: City of Ann Arbor Adopt-A-Park Program
Founder: Citizen Pruner Program

6 years: Huron River Watershed Council, Volunteer & Stewardship Coordinator
Boards and Commissions

Audit Committee
Community Events Funds Committee
Council Rules Committee
Energy Commission
Environmental Commission
Medical Marijuana Ordinance Review Committee
Recreation Advisory Commission
Urban County Executive Committee
Washtenaw Area Transit System
Community Involvement
Homegrown Festival, Co-Founder and Chair
Local Food Summit, Co-Founder and Chair
Malletts, Millers, and Fleming Creekshed Coordinating Committees, Coordinator/Member
Association of Leaders in Volunteer Engagement, President Elect
Personal Interests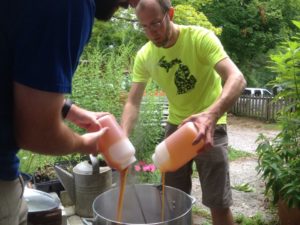 Running in local parks
Home brewing
Gardening
Canning and preserving
Home repairs and remodeling
Helping friends and neighbors